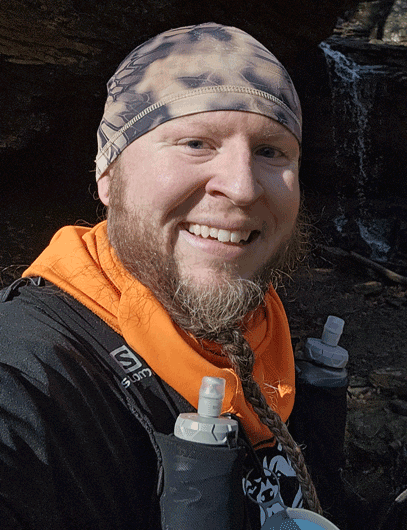 Describe your background, interests, and vocation.
I'm a father of two who loves the outdoors and, when stuck indoors, I'm a weld shop manager.
I'm always on the go with my many hobbies. Here are some fishing, MT biking, hiking, backpacking, camping, gardening, canning and making wine, plants, rock collector, SUP, and more to list a few.
I enjoy volunteering with the Rachel Carson Trails Conservancy doing trail reroutes, I'm a trail steward, and also volunteer at Frankie's friends.
Why would you like to be on the RCTC Board?
I hope to bring new ideas and have inputs for the future of the Rachel Carson Trails Conservancy. Also for my love of being involved with the RCTC and volunteering as much as I can.

What makes you a good addition to the RCTC Board?
Being a weld shop manager and also in charge of laborers, I have leadership, organization, problem solving, and people skills.
Now being on the board and involved with the RCTC for 4ish years I have great understanding of how the organization works, what it takes to keep the trail in safe conditions, and the amount of work that is involved in all aspects of the RCTC.