Volunteer with the RCTC!
Join the fun, support the mission!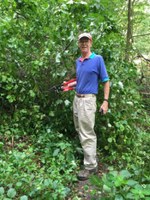 The RCTC is a 100% volunteer organization. Without the tireless service of our many volunteers, the trails we use and events we enjoy would not exist. There are countless opportunities encompassing a variety of tasks for volunteers to donate time, energy and experience to keep this footpath open and available to the public. Regardless of your skills or interests, there is definitely something for you! No task is too small or insignificant.  Last year, over 200 people volunteered almost 5,000 hours to the Conservancy.  So what are you waiting for? Come and join the fun! Make new friends and memories! Send an email to Volunteer Coordinator Donna Stolz today! And if you volunteered, please report your hours on the MyRCTC site (log in and click Volunteer at the top).
Trail Stewards
Stewards are trail maintainers assigned a particular region of the trail. Stewards are expected to monitor their section on a regular basis, keep the trail clear and blazed all year long, and request a work day if major upkeep is required. Stewards are provided with a basic set of tools, as well as paint to keep the trail open and well marked. There are currently many steward positions open on the Baker Trail.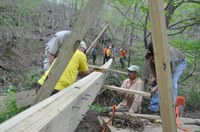 Trail Work Days
Major trail work involves clearing blowdowns with chainsaws, mowing, trail re-routes, trail repair and bridge building. These activities are scheduled as needed through out the year. Tools and training are provided by the Conservancy. Those interested, may take sawyer certification classes that allow volunteers to do chainsaw work on the trail. Registration costs are covered by the Conservancy.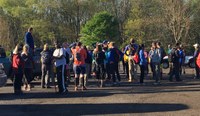 Hike Leaders
In order to introduce new hikers to the trail as well as assist seasoned hikers during training hikes for the Rachel Carson Trail Challenge, we offer many sponsored hikes during the year. We also host full moon hikes, fall hikes, winter hikes, Black Friday hikes to get people   out on the trail all year long. If there is an area you particularly like to  hike or interests you would like to share (birdwatching, naturalism, trail running, etc.) and would like to share it with others, schedule an event!
Event Volunteers
The Rachel Carson Trail Challenge and the Baker Trail UltraChallenge are our major events that provide three important functions:
To encourage trail maintenance throughout the year
To raise funds for the Conservancy
To raise awareness of the trails through event postings and registrations
Even if you aren't interested in hiking long distances, but still love the outdoors and being with fun people, consider helping at an event, especially if you are supporting a participant! You'll get an awesome event shirt and the knowledge that you helped a lot of people achieve their goals and the Conservancy raise funds to sustain the trail. Our event volunteers have been touted as the best of the best! Join our crew!
Data Input / Analysis
Collection of volunteer data, event data, images, etc to better connect with volunteers and maintain information to be used to benefit RCTC.
Committees
Executive Board: Meets monthly.
Planning & Promotion Committee: Promotion and planning of events, sponsorship. Meets at least quarterly.
Web Committee: Website development and maintenance. Meets as needed.
Safer Trails Committee: Explore ways to improve trail user safety, focusing on opportunities for moving trails off roads, and also identifying conflicts with trail bikes/ATVs, hunting, industry, and other hazards where remediation involves landowner permissions, licenses, easements, and/or acquisitions. The committee will develop and present mitigation proposals to the Board for review and approval. Meets in March, July, and November.
Harmony Trail Committee: Working to promote and maintain the trail and the valley it runs through. Leading the effort to connect the Harmony Trail to the Rachel Carson Trail. Acquiring land and encouraging the extension of the trail both north and south. Meets monthly.
Geocaching Committee: Working to populate the Rachel Carson Trail (and perhaps Baker and Harmony) with geocaches. Meets as needed.
Social Media/Web Content
Social Media: Keeping the community engaged in RCTC endeavors through Facebook, Instagram, Twitter, Flickr, etc.
Outreach & Education
Volunteers are needed to represent the Conservancy at events, assist with preparation of educational materials and simply spread the word. Volunteers with writing and design skills are always needed.  If you'd like to exercise your communications skills to share your knowledge about nature, policy, trails talk to us!
Fundraising
As a 100% volunteer non-profit, we are always looking for opportunities to raise funds and partner with like-minded organizations. Building and maintaining trails is expensive. If you are passionate about preserving green space and have experience in fundraising, we can use your help!