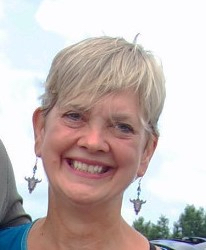 Describe your background, interests, and vocation.
Professionally, I have been a journalist for over two decades with over 1,400 published articles including numerous articles on topics about the Rachel Carson Trails Conservancy. These articles have appeared in various magazines, newspapers, blogs and websites including the Pittsburgh Post-Gazette, Family Fun Magazine, Hampton Magazine and more.
I am also an adjunct professor at La Roche University where I teach Public Relations for Nonprofits. In this class, we discuss various topics for nonprofits in how to create a positive image and get your message out to the community. This past semester, I had a Board member speak to my students about a small, all volunteer nonprofit. I also teach about grant writing for nonprofits.
Personally, I have been involved with the RCTC since 2005. I've served on various committees, volunteered at several events including several Challenges, and I have completed four Challenges, three Homestead Challenges and one Friends & Family Challenge. We are within walking distance to the Rachel Carson Trail and often traverse the trail throughout the year. I also created the RCTC Geocaching Trail with my husband, Paul Sauers, and oversee the awarding of the coins, etc. for those who participate in the geotrail. Additionally, I have served as the media spokesperson throughout my tenure which has resulted in coverage in various newspapers, magazines and television interviews.
Why would you like to be on the RCTC Board?
I have been involved in the RCTC since 2005 and feel that my experience with the trail and my professional experience are a good asset for the Board.

What makes you a good addition to the RCTC Board?
As a journalist, I have written several articles about the RCTC including an article for the Pittsburgh Post-Gazette that shared my first-hand experience hiking the Challenge. In addition to writing for outside publications, I have also written accounts of the Challenge for our website.
To refer to my answer above, I have volunteered for the RCTC since 2005 in various capacities including volunteering at events, serving as the media spokesperson, writing about events and activities, and creating and overseeing the RCTC geocaching trail.