Event Information
Harmony Trail Heroes 5K 2018
Overview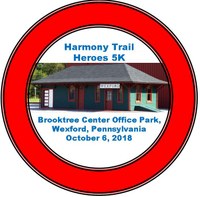 The Harmony Trail Heroes 5K takes place on Saturday, October 6, 2018 and is a fundraising event for organizations that support fallen heroes and their families from both military and law enforcement, and race proceeds benefit those organizations. Individuals and teams are to finish with their fastest time possible. Team awards will be based on the average time for all members of the team. Every runner must finish within 90 minutes.
Participant Information
Important event details and other information for participants is here.
Shirts & Awards
Shirts can be ordered during registration. Medals will be awarded for:
First, second, and third place male and female finishers for the Solo, Fallen (Light), Fallen (Heavy) and Dog runs.
First, second, and third place team finishers for the Team run.
Registration
The registration site is here. Registration closes October 3. Note: shirts ordered after September 28 will be shipped to the registration address after the race.
Volunteers
We need volunteers on the day of the event! We will need people between 9:00 AM till approximately 5:00 PM. People can volunteer for as few as two hours. If you'd like to help out please email Lou Krizmanich. What's in it for a volunteer? As a thank-you, all volunteers receive the event long sleeved shirt and the gratitude of many participants as well as friends and family of those who have sacrificed so much for all of us.